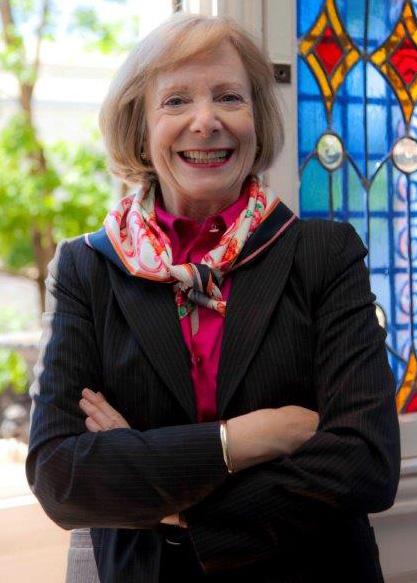 Audrey Sheppard founded and leads a boutique firm which advises companies as they address unmet needs in women's health. Based in Washington, DC, the firm commands the attention of national advocacy, Congressional and other key opinion leaders to recognize overlooked health conditions and diseases, and the innovative drugs and medical devices designed to diagnose and treat them.
The latest example is her involvement on behalf of Sprout Pharmaceuticals of Raleigh, NC, where she began advising Cindy and Bob Whitehead on national advocacy for Sprout's Flibanserin/Addyi, in early 2013. After the company's FDA turndown that fall, she was instrumental in forming and recruiting Even The Score participants; this coalition raised awareness of the huge divide between the agency's approval of male drugs for sexual dysfunction (26) and such drugs for women (0). That effort, combined with outreach to Members of Congress and other influencers, plus additional scientific studies, resulted in the drug's approval last month.
Ms. Sheppard joined the newly created FDA Office of Women's Health as Deputy Director in Fall, 1994 as a Presidential appointee, and headed it from 1996 - 1999. There she created an award-winning national campaign called 'Women's Health: Take Time to Care,' in which FDA partnered with more than 80 health professional and advocacy groups, as well as chain drugstores, to raise awareness about using medicines safely. In the 20 years since its origin, the program has expanded to provide health and disease information to tens of millions of women and their families, winning numerous awards.
In addition, she participated in the agency's deliberations on significant approvals affecting women, oversaw an annual intramural scientific research program and was a frequent public speaker to consumer and industry groups.
Upon leaving FDA, she founded her firm. Products on which she has worked include: the second generation female condom; a low dose contraceptive patch; an IUD; a morning after pill; a device, after breast cancer surgery, to make breast tissue expand in weeks rather than several months; an investigational device to reduce costs and expand use of a diagnostic substitute for the pelvic exam; a marker for Coronary Artery Disease, and more.
In 2007, Sheppard formed and co-chaired national Women's Health Leaders for Hillary; in June 2008 when Hillary Clinton endorsed Barack Obama for President, she converted the hundreds of participants to the Obama campaign. She was an active member of national Women for Clinton-Gore in 1992 and 1996, and all subsequent Democratic women's efforts. In 2004, she was Senior Advisor to the National Chair of Women for Kerry-Edwards. She is currently a member of Executives for Hillary. "
Earlier in her career, Ms. Sheppard worked in the U.S. House of Representatives, and as a Political and Communications Consultant. She was the Political Director of the Democratic Senatorial Campaign Committee from 1981, soon after Democrats lost the U.S. Senate majority, through 1986, when they recaptured it.
Early in the Clinton Administration, as a Presidential appointee, she was Assistant to the Secretary of Defense for Protocol and Public Engagement, which involved selecting and supervising ambassadors to the Secretary's 10 vital constituency groups, such as active military, veterans and the defense establishment. She also oversaw the Secretary's duties hosting foreign defense ministers and their delegations, and entertaining them at The Pentagon, Blair House and other special venues. Next, she became a Special Assistant in the White House Office of Presidential Personnel, recommending individuals to the President for full time positions, Boards and Commissions.
Currently, Ms. Sheppard serves on the Advisory Board of the Women in Public Service project of the Woodrow Wilson International Center. Previously, Ms. Sheppard was two-term voluntary Board President of Sewall-Belmont House and Museum on Capitol Hill, the nation's leading women's history museum, where she fostered closer relationships with Congress, and spearheaded a $2 million Appropriation to restore the House and its priceless suffrage collection. She served on the Board of the Older Women's League, facilitated a cross section of national women leaders to become knowledgeable of and engaged with the US Holocaust Memorial Museum, and advised Tostan, an humanitarian organization responsible for helping facilitate the women of thousands of African villages to abolish female genital cutting and child marriage.
Sheppard is a stepmother, grandmother and widow who resides in Northwest Washington.
If you're interested in learning more about the Women in Public Service Project please visit: http://www.50x50movement.org/